It may seem normal to think that you can walk around in your motorhome while driving, but the truth is that it's illegal in Australia because of its strict seatbelt requirements. The same goes with using your RV's amenities. Continue reading through to know more about the reason behind it.
BLOG CONTENTS
Why is it not allowed to walk around in your motorhome while driving?
The penalties of walking around in your motorhome while driving
Am I allowed to use the RV amenities while driving?
How about in caravans – Can I walk around in them while on the move?
What to do if it's an emergency?
Practical tips so you won't walk around in your motorhome while driving
Why is it not allowed to walk around in your motorhome while driving?
To begin with, it is mandatory in all of Australia to wear seatbelts while on the road. So whatever type of motor vehicle you are driving or riding in, you must wear your seatbelt. Likewise, children must be in a child restraint system all throughout the trip.
Local states govern the violations to the seatbelt rule, so it follows that penalties are different per Australian state. In the next section, you can find these fines as well as reference links to the complete version of the reference. But here are the current nationwide compliance standards to follow when it comes to seats, seatbelts and other related accessories:
The penalties of walking around in your motorhome while driving
Since walking around in your motorhome while driving is considered a violation of the seatbelt road safety rule, there are penalties to be paid. Moreover, the fine increases in accordance with the number of violators. Here's the double whammy – the driver will be penalised even if only the passenger has violated the seatbelt law.
Excluding the demerits, here are the fines (in AUD) you have to pay if one or more passengers are caught violating the seatbelt rule (and assuming that you as the driver are wearing your seatbelt):
NUMBER OF VIOLATING PASSENGERS

ACT
NSW
NT
QLD
SA
TAS
VIC
WA
One
<16 years old
502 + 502
349
500
400 + 400
487 + 487
387
330 + 330
550 + 550
≥16 years old
502 + 502
349
500
400 + 400
487 + 487
344 + 344
330 + 330 + 330
550 + 550
Two*
697+
559+ **
600+
Three*
1123+
700+
Four or more*
1472+
800+
| | |
| --- | --- |
| * | The fines indicated are only for the offence of the driver carrying multiple violating passengers. Additional passenger offences still apply. |
| ** |  Provided that the violating passengers are <16 years' old |
Example #1:

You were driving in Victoria and your 18-year old passenger got caught not wearing their seatbelt. Therefore, the following offences apply:

You will be fined $330 plus demerits for carrying an unrestrained passenger.
Another $330 plus demerits will be applied to you for failing to ensure that your passengers are completely restrained.
That passenger who violated the law will be fined $330 as well for his/her negligence.
| | |
| --- | --- |
| Example #2: | You are in Queensland and your child got caught moving around in your running motorhome. As a driver, you will be penalised with $400 plus demerits. Another $400 (plus demerits) applies also for failing to ensure that your child is restrained. |
Possible additional offences
Being caught standing while the motorhome is moving is one thing, but sitting on your bed while the motorhome is on the move is another thing. These are separate offences. So on top of the fines shown in the table above, other additional offences may apply such as:
If the unrestrained child under 4 years old is in the front row
When the violating passenger is seated in an undesignated seating position (e.g. couch with no suitable seatbelt; or bed)
If the violating passenger is a learner/P1/P2 driver
Improperly wearing or fastening the seatbelt or child restraint
Two passengers are occupying the same seat while on the road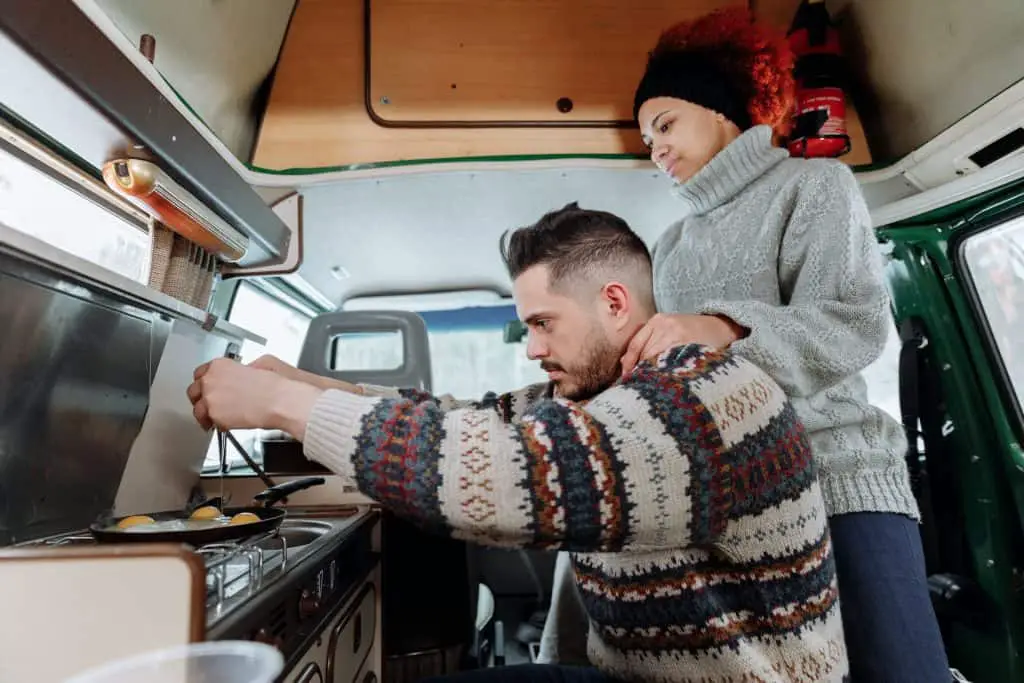 Am I allowed to use the RV amenities while driving?
As mentioned earlier, you are legally obligated to be restrained by your seatbelt all throughout the trip. That means you are not allowed to use your RV's amenities while on the road. You can get fined additionally for using amenities that are capable of getting you seated. For example, a couch with no suitable seatbelt, or a bed. I'll be discussing this further below.
Need more explanation? Then I'll make it clear as possible:
You can't sleep in your motorhome bed while travelling
Neither can you bathe nor use the toilet while the motorhome is on the move
You are not allowed as well to cook (or even microwave) food while on the road
And for couch potatoes out there, lying down or curling yourself up on your couch (which is an undesignated position) is out of the question
Yes, it's a shame that you can't get to enjoy sleeping in your bed or using the loo while your RV is on the move. But it's for your safety anyway.
Picture yourself moving around in your motorhome and then suddenly it brakes or takes a corner too fast. An undesirable scenario is that you'll be thrown over and bump your head on a hard fixture. You could be knocked out or seriously injured. Let alone what could happen if the vehicle was involved in an accident.
When manufacturers design the placement of designated seating positions, they typically include sufficient head and leg clearance from appliances and fixtures that could be an impact in case the motorhome suddenly stops. Although that is the case, we still never know. Nevertheless, it is better to stay put!
More on seatbelt rules
Let me share with you a great tip:
Not all seats can be legally occupied while in transit.
Take a look at your motorhome's plate for seating designations. You should find in there which seats are allowed to be occupied while on the road. Such seats are termed designated seating positions. Here's a sample plate: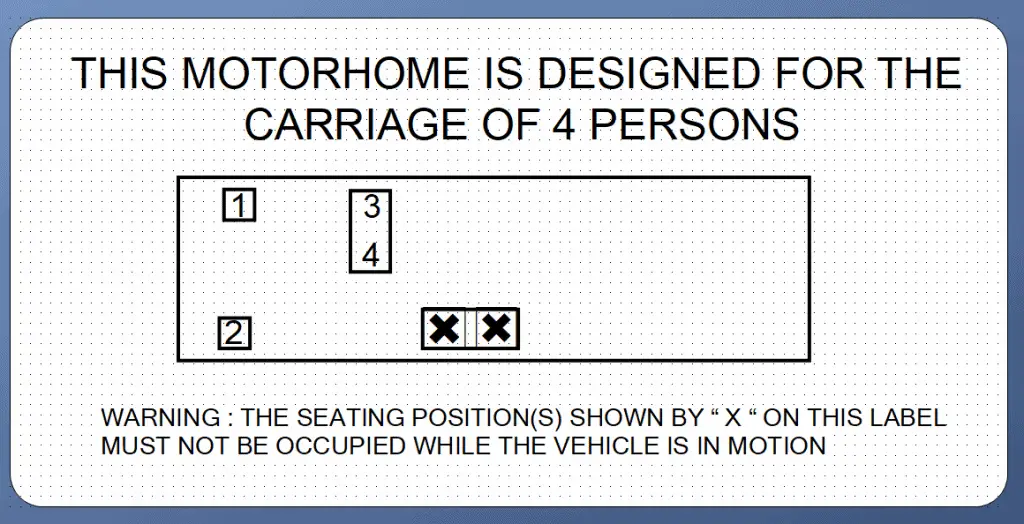 So make sure that before hitting the road all your passengers are in their designated seating positions. Furthermore,
Equip your designated seating positions with the appropriate seatbelts type.
Remove any seatbelts in seats that are not ADR approved designated seating positions. Further, do not place any child restraint system on such seats.
In some cases, there are motorhomes that have their undesignated seating positions equipped with seatbelts. These could be imported seats or vehicles that can not prove ADR compliance or seats that can not be used for passenger count due to overloading issues. These seats should have any seatbelt removed.
Seats must be locked in their appropriate position as designated seating position.
Some motorhome seats may be captain or VIP style seats with all the bells and whistles. They can be adjusted in many ways, be it through swivelling, adjusting the seat back and forward, and many others. However, these seats will have been designed to have an in-transit position. Usually forward-facing. So on the road, all designated seating must be locked to their designated seating position for safety.
I have explained this locking requirement in detail in my side facing seat blog post. Feel free to go over if you want to learn more.
How about in caravans – Can I walk around in them while on the move?
This sounds like a silly question, but for some maybe they don't know. So in caravans, you have an absolute ZERO chance to move around at all. That is because, in the first place, passengers are prohibited from occupying caravans while they're being towed.
So if you also think you can get more buddies with you on your trip by telling them to occupy the caravan, then you're mistaken.
What to do if it's an emergency?
Well, there are several types of emergency scenarios. But if you mean having to use the loo, you can just pull over first at the nearest emergency bay or rest stop. A slight inconvenience is nothing compared to the hefty fines of not staying put.
On the other hand, if you're in the midst of a serious emergency case that requires you to rush over to a hospital – then all the more that you should be on your designated seat. That is unless you are the patient or attending guardian.
Practical tips so you won't walk around in your motorhome while driving
Let's be honest – why would you leave your seat by the way when you're still on the road? I bet it's more because of a convenience issue or a kid issue. So to avoid that, doing these might help:
Do what you have to do before hitting the road

Whether it's going to the bathroom, cooking or changing your baby's diapers – do everything before your road trip. As a result of such diligence, you'll be much more relaxed on the road.

Place your "boredom killers" at arm's length from your seat

This is actually part of the preparation tip in #1. There are several ways to kill your boredom while on a long trip. Maybe having snacks, reading a good book, watching movies, playing online games, or listening to music. As long as you stay seated and restrained all throughout, you're good to go! All you have to do is prepare 'em so that you'll be able to reach them whenever you need to.
Well, the case is the same if your concern is more on caring for your kids during the travel. Keep their essentials near you or near them – for instance, baby wipes, water bottles, toys, etc.

Enjoy the scenic views

So let's say you've run out of things to do to keep yourself from being bored. Why not instead take the advantage of feasting your eyes with the picturesque Australian landscape while staying seated and restrained? With the great land area of the country, you won't run out of interesting sights to see. While doing that, you might as well take the time to pause and refresh your mind.

Take a nap

What's even better than taking a nap on the road? Motorhome seats are comfortable enough for you to rest on (even while seated) as you wait to reach your destination. You'll even have more energy to spend on camping after.

Work

It may be ironic enough to work while on the way to a vacation, but why not? With the work-from-home setup now gaining its foothold amidst the pandemic, it wouldn't hurt to get a few things done while on the road. Perhaps you could do some paperwork, email responses or phone calls. That way, you'll have more time for relaxing (and maybe more peace of mind) upon reaching your destination.
Wrapping up on the issue
So there you go. In literal terms, you can walk around in your motorhome while driving, BUT legally it is NOT allowed because Australia's road safety rules dictate that both drivers and passengers (adult & children) must be on their seatbelts or child restraints during the entire trip. Period. Violating this rule entails double whammy penalties. You don't want to go broke on a trip, do you?