There are several ways how to get Wi-Fi in your RV. One is through wireless routers which have been proven to be useful in Australia's terrain and landscape. A lot of router models are out there in the market, so you have to be sure that you get your money's worth when buying one. And that's what this post is all about – helping you choose between only the best RV wireless routers in Australia. So without further ado, the best picks are RV Wi-Fi, Telstra Pre-Paid 4GX Wi-Fi Plus, Netgear Nighthawk M2 and TP-Link M7450 v2. Read on below to know why.
But wait. If you consider yourself a novice when it comes to technology, then it's time to help yourself learn the basics – even if it's just in the matter of Wi-Fi or internet connection in general. Otherwise, you may freely proceed to look at the best RV wireless routers in Australia.
BLOG CONTENTS
What is a wireless router and how does it work?
Why get a wireless router for your RV?
Factors to consider when buying RV wireless routers
What are the best RV wireless routers in Australia?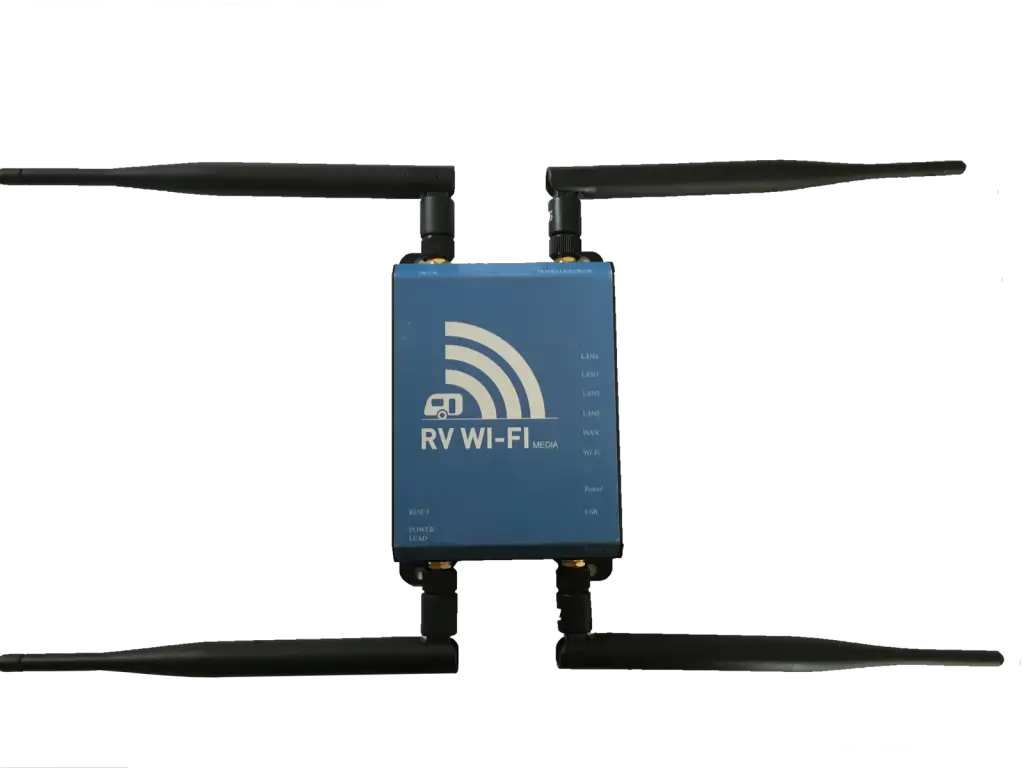 What is a wireless router and how does it work?
A wireless router is a portable device that directs internet data to the specific device it's intended for – hence, the term "router". What's able to connect you to the internet (via the transfer of radio waves) is the modem. Although modems and routers are originally two separate devices, a combined version is gaining popularity these days.
Following through, the internet source (base station) sends information to the modem in terms of radio signals. The modem decodes the information and converts it to the language which your devices can read. After such conversion, the modem passes on the information to the router which finally delivers it to the intended specific device. In simpler terms, a modem acts like a language translator while a router acts like a coordinator.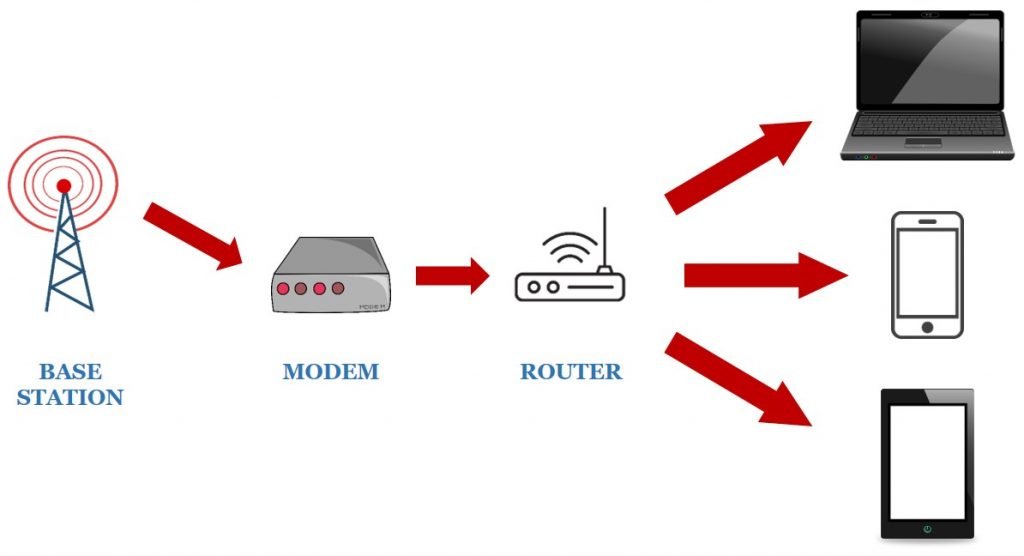 Say, for example, an Australian tour guide is catering to a group of high school Japanese tourists on a road tour. Naturally, these tourists are accompanied by a teacher and a translator. Now the tour guide found a student ID left behind in the bus. So he/she talks with the translator (modem) who then relays the issue to the teacher (router) after. Finally, the teacher returns the ID to the rightful owner.
I understand it's hard at first to understand how data is magically transferred across numerous places. But it's easier if you just imagine that there's a lot of invisible highways in the air by which information travel. And true enough, because information travels through radio waves which we cannot see.
| | |
| --- | --- |
| Did you know? | Wi-Fi was invented by a team that's spearheaded by an Australian engineer – Dr John O'Sullivan. |
Why get a wireless router for your RV?
In case you're still wondering why should you get a wireless router for your RV, let me help you be clear about it.
First and foremost, a modem can connect to only one output – and that is your router. Want to connect your modem straight to one device? Sure, but wouldn't a mobile plan be more economical in such a case?
Second, it depends on you whether you actually need a wireless router. The key questions that can help you decide are:
Am I travelling to a site where there's no public Wi-Fi?
Do I travel often, so much so that I constantly need an internet connection outside my home?
Do I need that much internet data during my travel? Will a mobile hotspot not suffice?
And third, there are several advantages to owning a wireless router for your RV. Some of these you might not have even considered, so read through below.
The advantages of RV wireless routers
I breezed through it earlier, so let me emphasize it now. Australia has a lot of wonderful isolated sites to camp in – be it outback, seaside or forests. And surely you will have your peace and quiet in those sites because you will barely find anything at all! No stores, no restaurants, no nothing – just you and nature. I bet you can now imagine how isolated these sites can be. So when rummaging through the wonders of Australia, you surely would need reliable Wi-Fi in your RV to help you keep connected to the world.
To add to that, continuously chomping on your mobile plan will drain your pocket. This holds especially when you or your kids are watching videos or playing games online. So that's when Wi-Fi in your RV becomes the economical choice.
It goes without saying that the wireless modem-router combo defeats the mobile hotspot when there are many of you using the internet. This doesn't apply only to RVers who travel with their families, but also to those who travel as a pack of RVers.
Having Wi-Fi in your RV adds to your whole convenient RV experience. Is that not the aim of travelling? Letting yourself loose of all the stress you've endured until now? Needless to say, this can go the other way around as well. RVers who heavily rely on the internet to continue doing their jobs may also consider owning personal Wi-Fi to be convenient.
Factors to consider when buying RV wireless routers
Now that you have established your need for an RV wireless router, let us proceed to define what to look for in an RV wireless router.
1. Brand
Understandably, a brand that has a good background and track record quickly helps you narrow down your options. And certainly, do choose an Australian one because there are Australian standards or regulations you might breach when you choose imported ones.
In case you'd want to inquire whether a certain imported router is acceptable in Australia, contact the Australian Communications and Media Authority (ACMA). That is the official body that governs and regulates everything related to communication devices.
Consequently, choose a legitimate supplier or distributor. It makes no sense to be able to determine the right brand and model, then fails to buy the legitimate version. So do your background check, specifically by looking at their customer reviews and partnerships with key players in the industry. Personally, I recommend Caravan RV Camping and My Generator not only for routers but for your RV needs in general.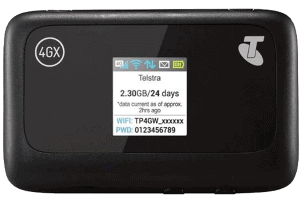 Telstra Pre-Paid 4GX Wi-Fi Plus
2. Compliance Mark
To ensure that the product you're looking at is safe for use in Australia, see if it has a Regulatory Compliance Mark (RCM) from ACMA. The absence of this mark should automatically put a red flag on that product, or even on the integrity of that brand or its distributor.
3. Technical Specifications
Alright. So continuing to the technical specifications, these are what you must note when buying a wireless router:
Technology version
If mobile phones have 3G/4G/5G internet technology, Wi-Fi has its own designation of technology versions too. The latest one to date is Wi-Fi 6e (or IEEE 802.11ax). Although the US and UK have already adapted this, Australia is still considering it. Therefore, the latest Wi-Fi technology available in Australia is the Wi-Fi 6 version.
It's nice if the Wi-Fi in your RV is the Wi-Fi 6 version, but as you'd expect – there's a price to pay. And yes, a higher technology version generally means a faster internet speed.
It is also worth noting that having the highest technology router does not guarantee continuous internet working at that technology level. Your actual location matters. For example, you're in an outback area where 4G is the highest technology it can accept. Therefore, your Wi-Fi 6 technology router will not work at a "Wi-Fi 6 internet speed". Rather, it will automatically tone down to 4G.
Coverage
Coverage is just as important as technology. Better technology does not necessarily mean better coverage. Instead, it may mean "better isolation from network traffic". Therefore, we have to consider coverage as a separate matter to technology.
Estimating your coverage requirement should be easy-peasy. Only you know how much coverage you will actually need, based on your typical travel conditions.
Frequency band
This says a lot about the flexibility of the router. Let's say a certain wireless router was claimed to have a "dual-band". That means it can access two "roads" to connect to the internet. So in case, one road is congested, you can switch to the other one. Also, one road might not be suitable for rural places, so the other one might work better.
Ports
Even if they're wireless, routers can still have ports that are or aren't necessarily for the internet. Examples include an Ethernet cable port and a USB connection port. The latter enables the router to connect to a printer or a flash drive for huge file transfers.
Safety features
You might have already taken a look at the prices of some routers, and couldn't believe how expensive others can be. Well aside from technology, safety features are one factor that affects the cost of routers.
| | |
| --- | --- |
| Did you know? | If your router is equipped with Parental Control features, you can set up what websites your kids can visit. |
Also, routers have Wi-Fi Protected Access (WPA) to protect you from hackers. And this protection level evolves too (i.e. there's WPA, WPA2 and WPA3).
As you go on, you will see that there are a lot more other features that your router can do. So you have to be quite diligent about it.
Power supply/consumption
The power supply of routers goes two ways: by plugging into your RV's main supply, or by batteries. Although negligible compared to your other appliances, your router's power consumption still contributes to your overall consumption. And electricity needs extra careful rationing when you stay for long in isolated sites, so do monitor this. That's unless of course if you have your own RV generator to go with.
Adaptability
Given that your router will eventually be connected to a modem, ensure that the router you choose is compatible with a lot of modem models. But in the case of the wireless routers I've recommended here, these are the modem-router combo type. So, what's left is to check whether the router is compatible with different internet service providers.
Also, technology upgrades so fast. Yesterday you were on a flip phone, now you're using a smartphone. The same goes for your routers. Check the upgrade options available for the router you're considering. Some models will need complete replacement which you don't want to happen too soon.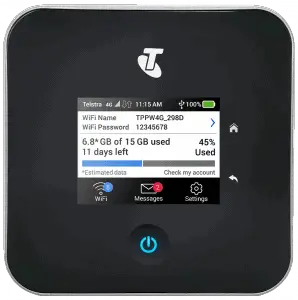 4. Accessories
A wireless router often goes as just one device – that is, with essentially no parts to assemble except for the antenna and possibly power supply. But to make sure that you've got everything intact, always look for the Owner's manual. Also, that's all you need to know is how to get the Wi-Fi in your RV working.
Antenna
Speaking of antenna, have you ever wondered what its use is? It may seem to be only a decoration, but the power of your internet has got something to do with your antenna. Since the internet connection is wireless, how in the world is data transferred? That's where your antenna comes in.
All key players (base station, modem, router, device) in the internet connection setup have their own "antenna" which does the transmitting and receiving of radio signals. That is why you can see them in every device (mobile phone, wireless telephone, radio, TV, etc.).
And just as you can see in many modern devices and some router/modem models, antennas do not have to be externally fitted. They can be internally integrated too, or even both!
Nonetheless, it would be better if your router's external antenna is removable. That is so you can replace it with a higher capacity antenna later on, in case you're not satisfied with the performance of your existing one.
Booster
Wi-Fi boosters do not enhance the strength of the internet source. Rather, they widen the coverage of your existing internet connection. For example, originally your connection has a 5-metre radius reach. Obviously, when you settle by a campfire outside your RV – you won't get that good of a signal. Therefore, you will need a Wi-Fi booster to expand that coverage to say, a 10-metre radius.
Be careful in buying too much techy equipment. You might find out too late that you're actually not qualified to operate such equipment (i.e. a licence is required). Visit the ACMA licences page to know more about the licences needed to operate certain communication equipment.
Mounting kit
Isn't it nice if you secure your router well in your RV? Mounting kits are useful especially when you travel to or pass through bumpy grounds. There are lots of mounting kits out in the market. You only have to confirm if they are compatible with the model of your router.
And be careful of wall mounts. See to it that you don't damage your RV walls and insulation which can cause leakage and mould growth.
Adapter
There are inevitably times when the connections of the devices you want to connect do not match. Thus, you will need an adapter to fill in the gap. Still, it's better to check out beforehand that your ports match before actually buying a wireless router.
5. Warranty
Just like any other product, it's always better if the supplier offers a warranty period. This means that they're confident in the quality of their products. Of course, you don't necessarily have to ask for a long-term warranty. A good short-term one (1-year maximum) will be enough to protect the investment you've made.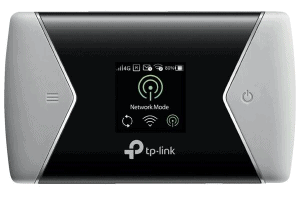 What are the best RV wireless routers in Australia?
So finally, we're getting through to the meat of this blog. What are the best RV wireless routers in Australia? Based on the factors presented earlier, I've listed below the best ones to date in terms of RV use.
As far as RVing is concerned, I picked the optimum models from the best brands. And because our top picks are compared apples to apples, you can easily see which one suits your needs (and wants) the best. The decision's all yours, mate!
Post note: If you notice, I've only chosen 4G routers. That's because isolated RV camps are not usually equipped for 5G and Wi-Fi 6 connections; plus, routers starting at 5G gets to be too expensive for occasional use.
The best RV wireless routers in Australia – A direct comparison
RV Wi-Fi
Telstra Pre-Paid 4GX Wi-Fi Plus
Netgear Nighthawk M2
TP-Link M7450 V2
Internet technology
4G LTE
4GX LTE
Coverage
50m
10m
Frequency band;
Internet speed
2.6 GHz
Dual-band (2.4GHz, 5GHz)
500Mbps download
40Mbps upload
Dual-band (2.4GHz, 5GHz)
300Mbps download
50Mbps upload
Ports

(all at 1 qty. each)

Ethernet port
USB-C port
USB-A port
SIM card slot

Micro USB port for the charger
SIM card slot
Micro SD card slot

Max. no. of connected devices
multiple
10
20
32
Adaptable to different internet providers?
Antennas
4 external

Internal antenna
2x 3G/4G ports for additional external antenna

Internal antenna
Power supply;
Battery life
12V, 1A draw
Battery (8 hours)
5040mAh battery (16 hours)
3000mAh battery (15 hours)
Safety / security features
Parental control (yet to be added)
WPA2-PSK
Wireless MAC filtering
Physical features
130 x 83 x 32 mm
104 x 64.5 x 14 mm
106g
105.5 x 105.5 x 20.35 mm
240g (with battery)
112.5 x 66.5 x 16 mm
Package components
Router
Yes
Yes, with battery
External antennas
4 no.
Power adapter / charger
Adapter cable only
QC 2.0 charger + USB Type-C cable
Micro USB cable only
SIM card
SIM adaptor
Warranty card
Installation manual
Others
5GB data
Other key features

Software is designed for RVs
1-year warranty
Optional high gain antenna suited for RVing

Screen display showing data usage

2.4" touch screen display showing data usage
App-driven
JumpBoost to charge small devices

1.44" screen display showing data usage
Up to 32GB storage
CE and RoHS certifications

Cost
$499
$69
(Its 5G counterpart costs $599)
$284
(Its 5G counterpart costs $696)
$249