With the RV market growing as a result of a shifting demographic and the growth in the digital nomad community, the variety of RV designs is also expanding (the same goes with RV entry doors). But what should your RV entry door really look like? What are the basics that you should know? Find out in this blog post.
What's the truth about outward opening doors and sliding doors in RV?

ADR 44/02 states that outward opening doors and sliding doors are the only accepted doors in RVs and caravans. So what doors are considered outward opening or sliding? A hint is that for RVs with a GVM of up to 3.5t, UNECE R11/03 covers hinged and sliding doors, but EXCLUDE folding, roll-up and easily attachable/detachable doors. And for heavy vehicles, the National Heavy Vehicle Regulator (NHVR) Inspectors Manual states that a reason for the failure of compliance is if there is not at least one outward opening or sliding door on the left-hand side or rear of the vehicle. So read on to know if your RV door aligns with these requirements.
ADR means Australian Design Rule.
Gross vehicle mass (GVM) is the maximum allowable mass of the vehicle when it is laden. This is determined by the manufacturer.
What exactly is the "hint" all about?
If your RV has a GVM of up to 3.5t, then your door latches and hinges must comply with ADR 2/01, and this ADR refers to UNECE R11/03 which covers only hinged and sliding doors and exclude other door types as mentioned above. Therefore, entry doors of RVs with a GVM of up to 3.5t must NOT be a folding door, a roll-up door, or an easily attachable/detachable door.
What about RVs with higher GVMs?
That is what we will clear out in the next section. For these heavier RVs, our starting clue is the ADR 44/02 requirement which is: it must be either outward opening or sliding.
Distinguishing between outward opening, sliding and other doors
While we have to follow the general standards for RV entry doors, we also have to be extra careful in concluding a door type to be outward opening or sliding because…
RVs may have only one access door for all passengers in the cabin. It is important therefore to take all measures to ensure that this door is truly safe and readily accessible in case of emergency.
Now which is which? Let me share with you the common doors we see in RVs, define whether or not it is outward opening or sliding, and why.
Bi-fold Doors / Inward Folding Doors / Jack-Knife Doors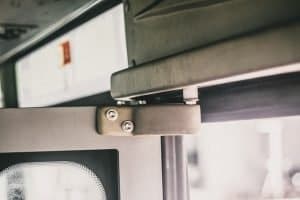 These doors are common in buses and coaches. They may be "sliding" at some point, but the fact that they are "folding" and/or "inward" already defies the expected level of safety which the door must exhibit during an emergency, so they can't be considered as sliding nor outward opening doors. To expand this reason,
Point 1:

In times of

emergency cabin occupants will surely rush to the door. Now if that door folds inward, it hampers the supposed traffic flow of occupants (which is outward, not inward). Remember that every second matter in emergencies.
| | |
| --- | --- |
| Point 2: | It is common for the sliding or pivoting mechanism of these doors to be in the form of either manual linkages or a powered cylinder inside the RV. When needing to exit the vehicle quickly, or worst first responders are needing rescue injured occupants. This function may be inoperable or an obstruction in the stairwell of the vehicle can hinder readily accessible access. |
Moreover, as per the National Heavy Vehicle Inspection Manual, even if an outward opening security door is fitted over bi-fold or inward folding (or jack knife) doors in heavy vehicles*, they are NOT considered as outward opening doors.
*Heavy vehicles are those that have a GVM of more than 4.5 tonnes.
THE REMEDY
If the door of your RV is currently bi-fold or inward folding, you can do a quick fix to make it ADR-compliant. That is to make the panels fixed (not folding) and create support on the side to make it a full outward opening door. Here's a sample: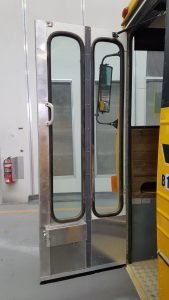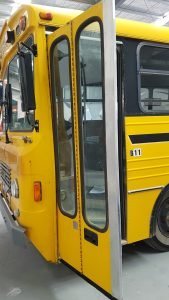 Sliding Plug Doors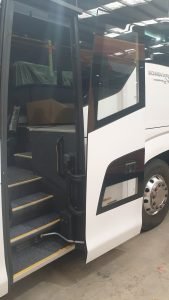 These doors definitely align with the intended definition by ADR 44/02. It is not only a sliding door but also an outward opening door.
Side Hinged Outward Opening Doors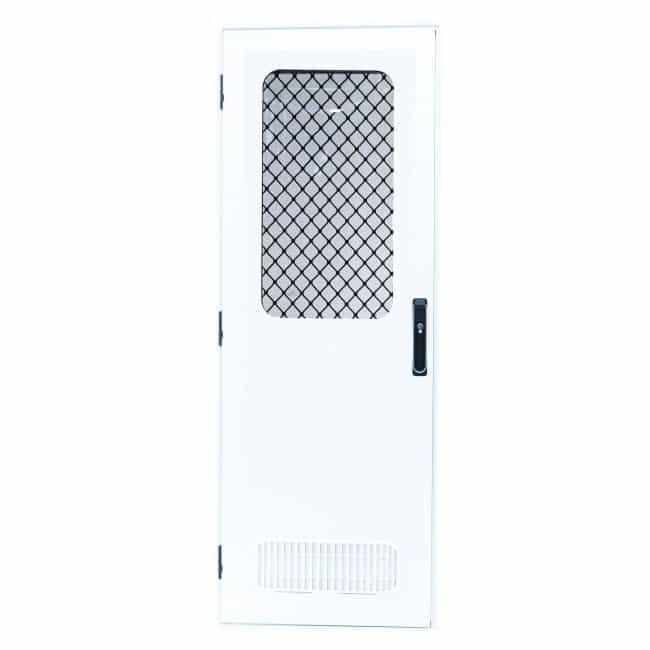 Since these are hinged on the side, they do not hinder passenger traffic during emergencies. And since these doors can be easily swung open outwards, then these are safe outward opening doors. Also, these can have one or two panels. However, as the door is hinged on the rear it can be blown opened while travelling if the door has not been closed probably or the catch fails. Therefore, the best practice is to hinge all outward opening doors to the front.
Tailgate Doors
This is an outward opening door but with a bit of safety risk involved. Given that it is hinged on top, and takes up the full width of the vehicle, the internal layout of the campervan would be restricted to provide unobstructed access to this door type. These doors are usually provided with additional side access doors when manufactured.
Barn Doors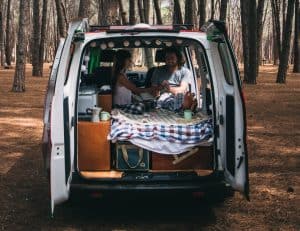 No question – this is a recommendable outward opening door that occupants can just swing open and be able to smoothly leave the RV during an emergency. That is why this door type is common in ambulances.
Fly Screen in your RV Doors
While there's no current Australian rule for fly screens on vehicle doors, what I can recommend is that your fly screen must be easily detachable or be part of the fitted RV door.
Now let's move on to the standards with which your RV entry door must comply with.
What are the standards regarding RV entry doors?
General Requirements
Quantity/Location: At least one must be located on the left-hand side or at the rear.
Size: Sufficient size such that an average person can easily walk through it without having to turn sideward
Clearance: Readily accessible and unobstructed. Access into the vehicle must be provided via a clear and unhindered path. No climbing over equipment, furniture etc.
All glazing material in the door must have a permanent mark – the information of which must contain:
What type of glass/plastic it is
The standard/s to which the material conforms. Typically, you must be able to see any of these standards:
GLASS

PLASTIC

UNECE R 43 – Uniform provisions concerning the approval of safety glazing materials and their installation on vehicles
AS/NZS 2080 – Safety glass for land vehicles
ANSI Z26.1 – Safety code for safety glazing materials for glazing motor vehicles operating on land highways
JIS R 3211 – Safety glazing materials for road vehicles
BS AU178 – Road vehicle safety glass*
NZS 5443 – Safety glass for land vehicles*
*These are significantly old standards and could be superseded by the other standards above.
| | |
| --- | --- |
| Warning: | The marking must be visible even after fitting the glass on the door. |
Door Latches and Hinges
As previously mentioned, RVs with a GVM of up to 3.5t (usually campervans) must have door latches and hinges that comply with ADR 2/01. The case is the same with door locks.
While there are no current rules for those components in heavier RVs, a good basis would be to have at minimum the same requirements as that for the RV of GVM up to 3.5t.
Access Height and Dimensions
There are no current rules for these, but the best practice would be to use ADR 58/00 as a guide. This ADR stipulates these requirements:
PARAMETER

REQUIREMENT

Access Steps

Clearance from the ground: 250 to 410mm

Riser height: ≤ 300mm

Width of lowest step: at least equal to the width of the access opening

Width of other steps: ≥ 450mm

Tread: ≥ 450mm depth, and slip-resistant

Access Opening

Width: ≥ 550mm
Height: ≥ 1200mm
Wheelchair Access
If your RV is designed to accommodate wheelchairs, then based on AS/NZS 10542.1 your doorway must fit these MINIMUM measurements:
Width = 800 mm
Height = 1400 mm
Internal headroom = 1500 mm
Possible Additional Requirements
It's always an advantage to get the first dibs on what's to come, so below are RV entry door conditions that may be turned into requirements in the near future (as per the Road Vehicle Standards Act Implementation Consultation Framework).
It would be nice if you could be one step ahead by considering the factors below during your on-going repairs or retrofits in your RV entry door (if any). Note though that these are only for RVs with a GVM greater than 3.5 tonnes.
Is your outward opening door fitted as part of converting your vehicle into an RV?
If so, then your door must be hinged from the front.
You may install a Bus style inward opening glide-away door only if:
a. it has an emergency exit release, and
b. it does not protrude beyond the outermost access step
Is your RV a converted one, and accessible only through a left-hand front door?
If so, then you must fit an aisle gauge to maintain the proper clearance between that front door, the seats and the living area.
Response
So I hope this has answered all your questions about the type of doors allowed in RV's. By now you have a wider awareness about the compliance needs of your RV entry door. I do hope that you seriously consider this for your safety and compliance requirements. Should you be interested to have your door inspected, I (as part of CVC) can help you by giving expert recommendations and even certify the ADR-compliance of your RV entry door.