Customising RVs by retrofitting parts such as windows, seats, etc. can be a good way of modernising your RV. However, it still has to follow certain rules to maintain safe operations. One question you may have is, "Is it okay to use caravan windows in a motorhome and vice versa?" Read on to discover the answer to this.
The clincher…
Upon searching for "motorhome windows" and "caravan windows" on the web, you might have thought these all look the same, at least at first glance. Does it mean that you can interchange RV windows with those for caravan?
The TRUTH is, only if the window has been proven to be ADR compliant. Here's the main point:
Some windows are only designed for use in caravan. Australian Design Rule 8/01- Safety Glazing Material, is not applicable for caravans or 5th wheeler and trailers. So therefore caravan windows are not required to be tested to comply with ADR 8. If these types of caravan windows were to be fitted into motorhomes or campervans, they would be non-compliant and unsafe. Other details to take into consideration is window tinting requirements exclusively for RVs.
Although this is the case, there are other important factors you still must consider – these are functionality and suitability. Sounds vague? Read on below.
What are the important factors to consider?
Functionality
We all know that the primary purpose of windows is to provide visibility out of the vehicle and to allow light in and in some cases to provide ventilation, but in the motorhomes and campervans, these windows provide a certain level of occupant protection in the event of an accident.
Now let's say you would like to replace your fixed glass window with a sliding window. While there are no emergency exit requirements for motorhomes or campervans. We suggest that you consider if in the event of an emergency, can you get out of the new window? That is why it's essential that when you're doing a replacement, the new window must match (if not exceed) the function of the originally installed window.
Suitability
This factor might seem to have too wide a scope, but let me give you specific tips…
| | |
| --- | --- |
| Tip #1: | The density of tempered glass is more than twice that of acrylic. |
That just means that tempered or toughened glass is much heavier than acrylic or polycarbonate material. In light vehicles where mass and carrying capacity is an issue, it is worth considering the lighter material. Of course in the case where these are used for vehicles not trailers, then the material must comply with the requirements of ECE R43 or ANSI Z26.1. Caravans, 5th wheeler and trailer manufacturers will usually use the lighter material and as no one is travelling in these types of vehicles while in transit then ADR 8 is not a requirement.
| | |
| --- | --- |
| Tip #2: | Campervan walls are less thick than caravan walls. |
Therefore, see to it that the windows you are installing suits the wall thickness of your RV or caravan. In the case of your campervan sidewalls, the windows for these are usually bonded in or have window rubber to secure the glass or frames.
What are the rules that I should follow?
Your RV or caravan must have permanent ventilation for all its gas appliances, and windows take a vital part in it. Specifically,

At least 50% of the total number of windows shall be able to be opened, or
There must be an alternative means for ventilation – Examples are:

An inlet air vent plus either at least 2 rotary vents or a hatch in the roof directed towards the rear of the passenger compartment
Air conditioner
Electric roof vents
Jet air fan/diffuser
Vent fans
Louvres

In the case of vehicles, you should permanently mark your window glass with at least these information:

What type of glass it is
The standard/s to which it complies with – this/these may include any of the following:

AS/NZS 2080
JIS R 3211
ANSI Z26.1
UNECE R 43
BS AU178*
NZS 5443*

The permanent marking on your glass must still be clearly visible even after installation.
*These are significantly old standards and could be superseded by the other standards above.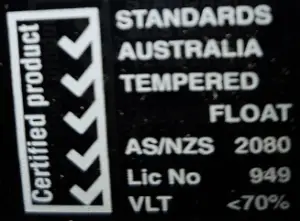 Insider Tips:
Bonded windows are usually secured by a polycarbonate adhesive. Windows with frames or rubbers can use the same polycarbonate adhesive or a non-drying caulking compound. It is my belief that if the windows are not to be bonded then non-drying caulking is best. However, the type and method of securing the windows must be 100% watertight. If water is allowed to enter through the windows, this could cause major damage in the future by rusting out the vehicle's framework or rotting the internals.

It helps to install blinds or shades for additional protection in case the sun's heat gets too much for you to bear.
Window Tinting
Now window tinting is quite a special factor because there are windows tinting requirements for RVs but none for caravan. As per the Definitions document of the Australian Design Rules (ADR),
RVs are considered goods vehicles.
GVM means Gross Vehicle Mass – the maximum allowable mass of the vehicle when it is laden. The vehicle manufacturer determines this value.
General Window Tinting Requirements
Glazing must be in good condition. It should not be loose in its frame or cracked to a point that sharp edges are already exposed.
On windows that are crucial for the driver to be able to view the surroundings well, the glazing must not hamper the driver's viewing ability. Specifically, it must not be discoloured, obscured, badly scratched, bubbled, sandblasted or fractured.
Window Tinting in Light RVs
So if your RV has a GVM of up to 4.5 tonnes, then it must comply with the luminous transmittance and reflectance limits below:
PARAMETER
NSW
ACT
VIC
QLD
SA
TAS
WA
NT
Luminous Transmittance (LT)
a.  Front side window
At least 35%
b. Windows behind the driver's seat*
At least 0%
≥ 20% or ≥ 0% **
≥ 15%
Reflectance
not stated
10% maximum
Other Window Requirements
◊
♦
◊ Reflective tinting, mirror-like tinting and spray-type tinting are not allowed.
♦ The requirements apply as well to RVs with a GVM >4.5 tonnes.
* Provided that the RV has at least one external rear vision mirror on each of its sides
** ≥0% if the RV has metal panels behind the driver's seat

Since the above are state requirements, then they precede the ADR LT and reflectance requirements.
Window Tinting in Heavy RVs
Generally, all Australian states refer to the National Heavy Vehicle Regulator (NHVR) for regulations on vehicles with a GVM greater than 4.5 tonnes.
So in accordance with Section 10 of the NHVR Inspection Manual, the transmittance and reflectance limits on RVs with a GVM greater than 4.5 tonnes are:
PARAMETER
REQUIREMENT**
Luminous Transmittance (LT)

a.  Front side window (not tinted)
≥ 70%
b. Front side window (tinted)
≥ 35%
c. Windows behind the driver's seat*
≥ 0%
Reflectance
≤ 10%
* Provided that the RV has at least one external rear vision mirror on each of its sides
** The limits stipulated allow for a 5% margin of error. For example, if the measured transmittance value for a tinted front side window is 30%, then it is still accepted.
If your RV complies with the above requirements, then it does not need to comply with the LT and reflectance requirements of the ADR.
Warning: If you do not follow the rules mentioned, you already know what will happen!
Privacy Glass
Most vehicles nowadays have tinted glass wherein the tinted film is already integrated into the glazing. This is widely known as "privacy glass". The point is, integrated or not, the combined transmittance of these tints/glazing must be within the limits shown in the tables above.
| | |
| --- | --- |
| Insider Tip: | If you're having a hard time determining whether the glass is actually tinted, you can do a quick check by placing white paper against the glass. If you can see a hint of grey, green or brown colour through the glass, then the glass is tinted. |
Consideration for Wheelchair Occupants
In case your RV has the means to accommodate wheelchair occupants (especially in heavy RVs), the NHVR recommends that you extend your windows up to a height of at least 1,400mm from the vehicle floor.
Final Thoughts
Again, for the most part, you can install an RV window to a caravan but be careful in doing the reverse since there are specific material requirements and window tinting rules for RVs. Also, in case you're replacing a window, the new window must have an equivalent or greater (safety) function than the one that's originally installed. In choosing which window to fit ensure that the minimum level of Standards has been met.