Comparing Thermoshield vs Super Therm® is interesting because they are household names when it comes to high-performance insulation paints. They both block heat, moisture and corrosion to an extent beyond the typical. At least that's how they present their products to be. Although they may seem identical at a glance, we'll point out here aspects that make one better than the other (or vice versa). 
In another blog, I have already compared Thermoshield with the well-known brand PPG. You might take an interest in it as I compared both solvent-based and water-based PPG paints to Thermoshield.
BLOG CONTENTS
The complete solutions of Thermoshield and Super Therm®
What exactly are Thermoshield and Super Therm®?
Thermoshield vs Super Therm® – A straightforward comparison
Case studies, testimonials and application test
Thermoshield vs Super Therm® – Critical observations
Critical observations on the application features
Company backgrounds
Thermoshield is an Australian-owned company established in 1997 with its headquarters in Victoria. On the other hand, Super Therm® is an American brand that has been around since 1989. With SPI Coatings as the sole manufacturer, Super Therm® is marketed to Aussies through their distributor NEOtech Coatings Pty Ltd in South Australia.
The complete solutions of Thermoshield vs Super Therm®
Naturally, we must clearly define what exactly are to be compared. Also, the Thermoshield and Super Therm® products to be compared must be of similar profiles so that our comparison would be fair. So to start, we must take a bird's eye view of how these brands work.
So let's say your roof is in its worst possible condition – that is, badly rusted and with holes and cracks. As a result, you're having trouble with mould, mildew, leaks and of course, lack of insulation. Therefore, what you will need from each brand are:
| | | |
| --- | --- | --- |
| TREATMENT STAGE | THERMOSHIELD | SUPER THERM® |
| Rust treatment | Rust Converter | SPI Rust Grip |
| Primer or base coat | Rust Preventative Primer Coat (acrylic-based) | SPI Super Base (acrylic-based) |
| Waterproofing | A non-permeable ceramic sheet membrane | Multi-mesh sheet membrane by SPI |
| Top insulating coat | Roof Insulation Coating | Super Therm® Roof Insulation Coating |
Isn't it almost a shock to see how similar the two solutions are?
Anyhow, you will observe that the complete solution of both brands involve the use of products from the same manufacturers – meaning, you won't have to worry about compatibility at all.
Now let us narrow down to our star products – we will be comparing for the rest of this blog only the Thermoshield and Super Therm® roof insulation coatings.
What exactly are Thermoshield and Super Therm®?
Thermoshield and Super Therm® are both water-based coatings made of fine ceramic particles which are vacuumed so that they would have dead air inside.
This vacuum then serves as the insulation from heat and moisture. That is why it's quite interesting to compare the two – they are more or less identical!
Specifically, Super Therm® has the following:
Four ceramic compounds
2 reflective
1 non-conductive – This is their secret to keep the substrate near ambient. In other words, a black car can be cooler to the touch than a white car – that is, when it's applied with Super Therm®.
1 infrared blocker
Two acrylics
1 elastomeric in nature for adhesion and to protect against water ponding
1 work-horse acrylic that is tough and durable
As for Thermoshield, please do not confuse this with the American Thermo-Shield. They are entirely different products.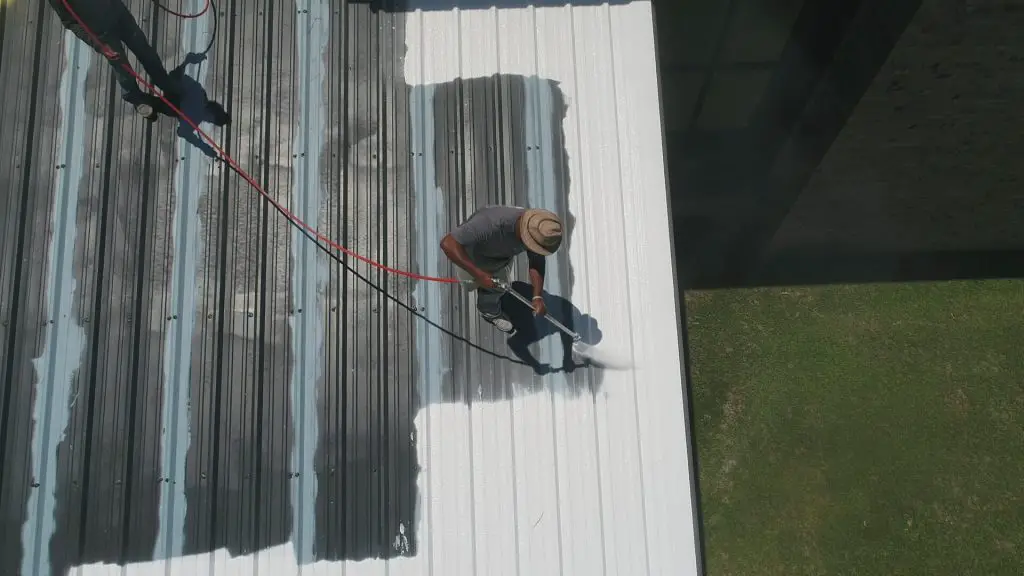 Thermoshield vs Super Therm® – A straightforward comparison
Okay, okay. So before everything, let me remind you that this comparison is based only on data that are readily available on their respective Australian websites. In case you find these lacking, you may directly contact either of the two suppliers to raise your inquiry.
Key features and benefits
PARAMETER
THERMOSHIELD
SUPER THERM®
THERMAL INSULATION PROPERTIES
External emissivity and reflectance
0.90 and 89%, respectively
Its reflectivity decreases by only 1% after 10 years!
Reduction in internal temperature
45% maximum
Effective as interior insulation with an emissivity of 0.91 (although not code-approved as such)
Reduction in external heat
≤96% from UV penetration
≤95% average, with the following breakdown:

99% UV reduction
92% visual light reduction
99.5% infrared reduction

Thermal insulation rating
6.3 R-rating
Does not have an R-value because it does not block conductive heat. Rather, it blocks solar heat only, measured in terms of BTU rating equivalent to 99.7%.
FINANCIAL BENEFITS
Energy/electricity cost saving
At least 20%
Up to 40%
Return on investment
2 years payback based on one case study
1 – 3 years
INHIBITION AND FLEXIBILITY PROPERTIES
Moisture prevention
Yes
Mould and mildew prevention
Yes
Sound reduction
No data
68%
Acceptance of tints
Able to accept tints except for black pigments. Also, must be restricted to the first shade of pastel colours.
Accepts tints within their Colour Chart.
WARRANTY / GUARANTEE
10-year warranty
20-year lifespan guarantee
DOCUMENTARY CREDENTIALS

CSIRO fire rating – group 1
Section J of the Australian building code
ISO 14025 – Environmental Product Declaration, Global Green Tag
ISO 14001 – Environmental Management Systems
GECA 23-2005 – Architectural and Protective Coatings: Environmental solutions for sustainable markets
ISO 9001 – Quality Management Systems
Various ASTM tests. See the specification sheet for a full list.

Class A fire rating (Zero flame spread and smoke) as per NASA and Australian laboratory tests
VOC-compliant based on Australian CSIRO standard (67 grams/litre as opposed to the Australian limit of 100)
Helps companies reach ISO 14000 standards
Various ASTM, JIS, USDA and BOCA tests. See their page for the full list.
Application features
PARAMETER
THERMOSHIELD
SUPER THERM®
Application flexibilities
Brush, roller, airless spray
Brush, roller, airless spray
No. of coats needed
Two
One, or (if brush is used) two
Coverage
2 sq.m. per litre when 2 coats are applied
2.5 sq.m. per litre
Minimum total thickness required
0.5mm wet
17 mil (0.43mm) wet
10.1 mil (0.25mm) dry
Can be applied by itself?
Yes, provided that the RV surface is not badly rusted and without other forms of corrosion.
Procedure or conditions
Online guide available;
Follow above complete solution, and remove any inapplicable treatment.
The following resources are available:
Application times
No data
Dries to touch in one hour;
2-hour recoat window at 21°C;
Fully cures in 21 days
Additional information
Super Therm® in most cases doesn't need a primer and is applied directly to the substrate of the RV, regardless of material type. This contributes a lot to cost, time and weight saving.
Specification datasheets
PARAMETER
THERMOSHIELD
SUPER THERM®
Product Name/Code
TC 938/45S/101
SUPER THERM®
Ingredients
Acrylic polymer emulsion (30-60%)
Titanium dioxide (10-30%)
Inorganic extender (10-30%)
Water (10-30%)
Resins & water (75.5%)
Mica/additives (14%)
Waterborne polyurethane (10%)
Texanol (0.5%)
Hazard Classification
Not hazardous as per Safe Work Australia
Not dangerous for supply or conveyance
Hazard Statements
N/A
Irritant, dermal sensitiser, acute toxicity
H320 causes eye irritation
H317 may cause an allergic skin reaction
PROPERTIES
State
Viscous liquid
Liquid
Specific gravity
1-1.2
1.4
Boiling point (°C)
approx. 100
>192
Vapour Pressure
No data
18mmHg @ 20°C
Odour characteristic
Mild ammonia
Mild acrylic; threshold at 0.8-2.5 ppm
pH
9-9.5
8
Stability & reactivity
Stable;
Thermal decomposition may produce acrylic monomers, carbon monoxide, carbon dioxide and oxides of nitrogen.
Stable;
Incompatible with strong acids or bases
Handling & Storage
Store in a cool, dry place.
Do not allow to freeze.
Store below 50°C.
Do not allow to freeze.
Case studies, testimonials and application test
The details that are presented so far should be more than enough. But of course, it would be even better if we can take a look at actual case studies or tests. So here are links made available for your reference:
Thermoshield Case Studies and Testimonials
CLIENT / LOCATION
DESCRIPTION
RESULTS
KingPin Bowling, Thuringowa QLD
KingPin Townsville was in a tight dilemma with its excessive electricity consumption due to its extensive air conditioning use. With the help of Thermoshield, KingPin's 4,130m² roof was painted in 3 weeks.
A drop of 15-20% in electricity usage and a payback period of 2 years.
Significant savings. Should KingPin have replaced their roof instead, they would have spent AUD 253,995 and 17 weeks' labour.
Ashburton Pool, Boroondara VIC
The facility's roof was restored via the application of Thermoshield's Rust Converter, Primer and Insulation Coating.

 

A 47% (31°C) drop in the roof's external temperature.
Probiotec Pty Ltd, Laverton North VIC
Probiotec was experiencing an advanced rusting of its roof. Thus, they hired Thermoshield to do the repairs using its product line.

 

The job was completed in 6 weeks. Other data are available upon direct inquiry to Thermoshield.
Testimonials
Super Therm® Case Studies, Test and Testimonials
CLIENT / LOCATION
DESCRIPTION
RESULTS
Adelaide, SA
Out of 4 standard galvanised metal sheets, Super Therm® was applied on one side of each of 3 specimens. Also, it was applied in a manner which it is combined in different portions with other paint.

 

1 coat of Super Therm® produced a temperature difference of 12% between the sides of the metal sheet. Visit the Adelaide link to see other results.
K-Tech, USA
A check on the performance of Super Therm® after 30 years of application

 

No deterioration in appearance;
Minimal loss of film thickness (0.05mm only)
S Corporation, Japan
A project involving the reduction in the energy consumption of air-conditioners

 

AUD 134,436 energy savings per year;
1.06 years payback period
Nissan Factory, Japan
Application of Super Therm® in the factory's roof which is over 200,000m²

 

75% reduction in electricity consumption
US Air Force Renewable Energy Symposium
In the midst of a 43-45°C desert heat, Super Therm® was applied to the exterior of a typical metal building that has no existing insulation.

 

The interior temperature was read to be 29°C even with:

60 visitors inside the building,
all air conditioners off, and
the doors wide open

Florida Motorhome RV
St. Johns Housing Partnership, a non-profit agency, experimented on Super Therm® as part of its pursuit of ways to reduce residents' utility bills. Their main business by the way is the repair and weatherization of family residences.

 

Average internal temperature improved by 12% (5.6°C);
A 59% (30°C) drop in the RV's exterior surface temperature
Other case studies
Testimonials
Thermoshield vs Super Therm® – Critical observations
Looking at the key features and benefits of both products,
Their Return on Investment, heat reduction performance and resistance to mould & mildew are closely comparable
Only Super Therm® made mention of the ability to reduce noise
Thermoshield has more Australian documentary certifications, while Super Therm®'s documents focus more on internationally recognised standards since they supply to a worldwide market.
Super Therm® definitely takes the win in warranty/guarantee, offering a guarantee twice that of Thermoshield.
Super Therm® was developed with NASA's participation. That's great merit in itself, ain't it?
Meanwhile, in terms of their safety data sheets, you will see a bit more distinction:
Their formulations are generally similar but their "ingredients" are distinctive.
Super Therm® is a bit more hazardous based on its Hazard Statements compared to Thermoshield.
Although it does not really have much to do with RVing, Thermoshield will boil much earlier than Super Therm®.
Lastly, although Thermoshield has more case studies in Australia, Super Therm® has more varied case studies. They even have one that's particularly about RV – a type of case study which Thermoshield doesn't have. But of course, it would be even better if Super Therm® presents more Australia-specific case studies and documentary credentials.
Critical observations on the application features
The application conditions of the two products must be given due emphasis since it's directly related to weight – a parameter that's extremely important for RVers.
Although Thermoshield is less dense than Super Therm®, Super Therm® requires less film thickness and can cover a greater area. Ultimately, you will need less Super Therm® coating than Thermoshield for the same surface size.
To prove this point, let us have an example. Say, the surface area of your RV roof is 15m².
If you coat it with Thermoshield, you will need:

That's equivalent to a weight of:

On the other hand, if you use Super Therm® you will need:

Or a wet weight of:

That means you will need 20% less coating when you use Super Therm® instead of Thermoshield. And since the former requires less wet film thickness, we can safely assume the same for dry film thickness. In short, Super Therm® will most likely add less weight to your RV than Thermoshield will. – and for a difference of about 7%. This is based on the 9kg vs 8.4kg difference above.
The verdict
Based on these analyses, we can see that primarily their performances in heat reduction are neck in neck. But if we look at their other properties and benefits, I can say that Super Therm® is better in the account of the following:
Less volume of coating required and less weight added on the RV
Ability to reduce noise too
Extensive case studies and strong partnerships with reliable organisations
Well-trusted not only in its origin country but also to other countries worldwide – one of which is Australia of course
It could have been nice if Thermoshield provides more information on their product line, as extensive as Super Therm® does. Given that the two brands are only 8 years old apart, it is quite a surprise how they widely differ in overall market coverage. Or maybe Thermoshield intended in the first place to focus only on the Australian market? We'll never know.