In this day and age where "Add to Cart" is key, one can easily buy just about anything even from overseas – and RV seats are no exception. Even so, having so many options can get customers confused if those seats will actually fit perfectly in their RVs or if they are even legal. Hence, we're here to help you figure out this concern.
The difference between local and imported RV seats.
Australia has its own standards for RV seats but also accepts the UN standards as an alternative. Thus, you can buy RV seats from overseas if they (including their components) comply with Australian Design Rules 3/xx, 4/xx and 5/xx (or their respective alternatives tabulated below). But that's not it – there are also practical factors to consider so stay tuned.
* The ADRs listed are the latest versions as of the date of writing of this post.
** Incorporated in the ADR document as "Appendix A".
*** Only for RVs with a gross vehicle mass (GVM) greater than 12 tonnes.
The GVM is the maximum allowable mass of the vehicle when it is laden. This is determined by the manufacturer.
The UN harmonisation of compliance standards
The United Nations has been exerting efforts to harmonise the vehicle standards of its member states so that importing and exporting vehicles and vehicle parts would be easier. Although this is the case, NOT ALL UN-member countries are fully adapting the UN vehicle regulations. So for now you can import RV seats from a select number of countries that currently comply with the UN vehicle regulations.
Aside from not being compliant with Australian Design Rules standards, imported RV seats could be cheaper because:
So what else should I check when buying an imported RV seat?
Compatibility
It doesn't hurt to ask first the supplier if their product is compatible with the model of your RV. It will actually save you a lot of time rather than analysing the other factors below.
Brand
Well, what else is there to say? If you plan to import an RV seat, might as well choose the same brand as the existing seats since the supplier can quickly check the right product for you. They might even give you other suitable options to choose from.
Country of Origin
Unless they are made for export to Australia, RV seats from the United States, China and Canada are not recommended because they have their own vehicle standards which are not uniform with the Australian Design Rules standards. Instead, I recommend you to import from Europe and Japan for the consequent reason.
Marking / Certifications
Typical labels on seats only include at least the manufacturer's name/trademark and part number. So when looking at the specifications of the RV seat you want to buy, search as well for its relevant documents such as the certificate of compliance or test reports. Specifically, that seat must show that it complies with the ADRs or the UN regulations.
Seatbelts, on the other hand, should have tags sewn into them, showing which UN ECE standard they comply with and the version.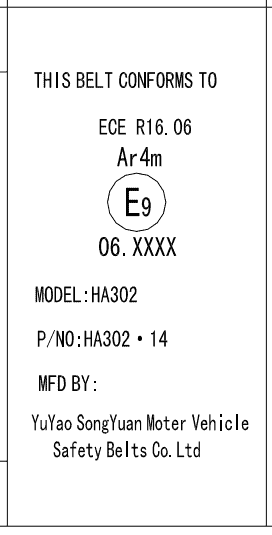 Warranty
This is quite a given no matter what the product is. Although you do not really need to look for a long-term warranty (which would make the seat overly expensive), having even just a short-term one can help you have some sort of peace of mind. Usually, standard warranties are approximately from 3 months to 12 months.
Aftersales
Since you'll be importing the RV seat, it is especially important for the seller to have a good record of after-sales service so you won't be left hanging in the air in case you encounter a product problem.
It would be good as well if the seller has a sales office in Australia. That would likely mean that their product is compliant with Australian standards.
However, if you contact an oversea supplier who has a local distributor or reseller in Australia they will generally not sell to you directly. Instead, they will direct you to contact the local agent in Australia. As more than likely, there would be a licensing agreement between the agent and the manufacturer.
Complete Accessories
It is a common problem among buyers to discover too late that the product they bought is not actually complete (i.e. accessories are sold separately or as "optional" items). This can be a big problem and a great inconvenience if it happens with your RV seats. That is why you must exert a little effort into confirming if the product comes as a complete package.
Complete hardware (e.g. bolts, nuts, lock washers, spacers and backing plates)
Owner's manual in English, with supporting diagrams
Seat label
Spare parts – not required, but recommended
Complete accessories( e.g anchorages, seatbelts assembly, etc)
| | |
| --- | --- |
| Insider Tip: | If an additional RV seat installed in accordance with VSB5, the seat labels of the manufacturer and the installer must be separate (except if the manufacturer is also the installer). Below is a sample. |
In addition (still under VSB5 regulations), Category 2 and Category 3 seats must have this label:

Category 2 Seats – seats for children up to 12 years old only
Category 3 Seats – seats for children up to 8 years old only
Changing the Seat Configuration / Installing Additional Seats
Since you're buying a new seat, it is likely that you're planning to change the configuration of your original seat. For example, from a front-facing seat to a rear-facing seat, or from a swivelling seat to a bench seat. If not, you're probably adding an additional seat to your RV.
In either case, you will have to consult first an expert if the change you want can be legally done. There are safety issues that can arise which you would never have considered beforehand. I work with and highly recommend CVC as your go-to expert for such concern.
| | |
| --- | --- |
| Insider Tip: | Make sure that doing either of the above cases complies with the following standards (as applicable and in addition to ADRs 3/xx, 4/xx and 5/xx). |
Then after buying the seat, all that's left is fitting it to your RV – a work that must be done by strictly following the manufacturer's instructions.
Do I need to test the safety of my new seat after installation?
You won't need to do such testing because the required test procedure generally renders the seat unusable after testing – that is, the seat significantly bends during testing so it's not safe for use anymore after.
Also, that's the responsibility of the manufacturer. Prior to marketing their products, the manufacturer should have already tested the product's safe use in accordance with Australian (or acceptable alternative) laws.
The thing with buying overseas RV seats
There's nothing wrong with buying RV seats from overseas. It's just that you have to be more cautious since imported RV seats might not have safety compliances or if there are any, they might be different from Australian standards. Remember that importing the wrong product can cause extreme inconvenience in terms of time, effort and money. So you have to ask yourself:
Do I really want an RV seat from an overseas supplier?
Are there no local alternatives?
Is the imported seat safe as per Australian standards?
Is it compatible with my RV?
The decision is all yours, but remember like all things "Buyer Be Aware".