Customising motorhomes by installing side-facing seats has been a common practice by vehicle modifiers and motorhome owners for various reasons – comfort, functionality, aesthetics, etc. And there seems to be no problem with it so far, right? But is it really legal in Australia? Check this post to find out.
CONTENTS
What standards should I follow regarding side-facing seats for motorhome?
Which side-facing seats are legal in Australia?
What exactly are side-facing seats?
What safety issues must I consider?
Where should I install my side-facing seat?
How should I install my side-facing seat?
What standards should I follow regarding side-facing seats for motorhome?
Rules for the design and installation of side-facing seats (including their components) include Australian Design Rules (ADR) 3/xx, 4/xx and 5/xx, plus VSB6 – section K. On the other hand, Australian states/territories handle the administrative rules. Even so, side-facing seats are legal in certain motorhomes only.
VSB5 used to provide guidelines on how to manufacture and install side-facing seats in vehicles with a GVM of up to 4.5 tonnes. However, it removed these after finding out that it entails innate safety problems. Hence, it recommended last March 2017 that you follow the ADRs  in case you decide to push through with fitting such seats.
Here is the breakdown of standards that your side-facing seat must follow:
All ADR links above are the latest versions as of the date of writing of this post.
  Insider Tip:
Exempted from the above requirements are side-facing seats that aren't meant to be used while the motorhome is in transit. However, they must:

NOT be equipped with anything that may mislead the occupant to use it while the motorhome is running. (for instance, seatbelts and child-restraint anchorages), and
Be adequately secured to be able to withstand 10 times the gravitational weight
Which side-facing seats are legal in Australia?
According to ADR 3/04, side-facing seats are legal on motorhomes with a GVM of more than 3.5 tonnes and whose model was first released on or after 1st November 2019. However, RVs with a GVM of up to 3.5 tonnes may also be allowed but on certain conditions.
GVM (gross vehicle mass) is the maximum allowable mass of the vehicle when it is laden. This is determined by the vehicle manufacturer.
Following the above, you can still install a side-facing seat in an RV that has a GVM of at most 3.5t only if all of these conditions are met:
Its model was first released on or after 1st November 2019
Its design, installation and anchorages comply with the requirements that for forward-facing seats
It has NO upper torso restraints and anchorages
It complies with the direction of loading mentioned in the Australian Design Rule (ADR) 5/05 or a later version
Therefore, you are NOT allowed to install side-facing seats if your motorhome's date of manufacture is before 1st November 2019.
What exactly are side-facing seats?
The definition of a "side-facing seat" might get ambiguous since motorhomes can have seats that are fully rotating. So to be clear:
A seat is considered to be side-facing if, during transit, it faces 90° to or from the forward direction of your motorhome.
What safety issues must I consider?
Forward-facing seats are generally the safest ones to use while side-facing seats are the least safe.
So in case your motorhome was first manufactured before 1st November 2019 but has already side-facing seats installed in it – you can either:
Not use them while on the road, or
Remove and/or replace them with forward- or rear-facing seats
Otherwise, just follow the standards previously presented in the table. After all, they're made to ensure the safety of every vehicle user.
Where should I install my side-facing seat?
When looking for a place to fit your side-facing seat, always think of SAFETY FIRST. Therefore, place your seat where:
There is minimum-to-no likelihood for injury to any occupant in the event of a vehicle crash;
It does not obstruct the pathway of passengers (read on the clearance requirements below);
It does not obstruct the driver's rearward visibility (otherwise, you'll have to add an external rear vision mirror);
The effective use of seatbelts, child restraint anchorages and the like is not hampered;
It does not inflict an additional load to any existing seat. But if you can prove thru valid testing that the seat can carry such additional load, then no problem; and
It is firmly attached to the vehicle body
How should I install side-facing seat in my motorhome?
Locking
You need to lock side-facing seats in a certain position while the motorhome is in transit. This position is called the designated seating position, and it is determined by the seat or vehicle manufacturer.
Consequently, multi-purpose seats can have more than one locking position and more than one designated seating position. Some examples of multi-purpose seats include convertible seats and swivelling seats.
In summary, you shall follow these locking requirements:
| | |
| --- | --- |
|  SEAT TYPE / CONFIGURATION | REQUIREMENT |
| Sliding seat and/or bench seat | Seat is automatically lockable in all its seating positions |
| With adjustable seat-backs | Seat is lockable in all the positions provided |
| Can be tipped forward / With fold-on seatback / Folding seat | Seat is automatically lockable to the position where the occupant uses it. |
| Swivelling seat | Seat is easily lockable by hand, to its designated seating position. |
Labelling
Seat capacity labels for motorhomes must always show the designated seating positions. This is to warn occupants which seats must not be used while hitting the road. So if you're fitting an additional side-facing seat, you will have to change your label too.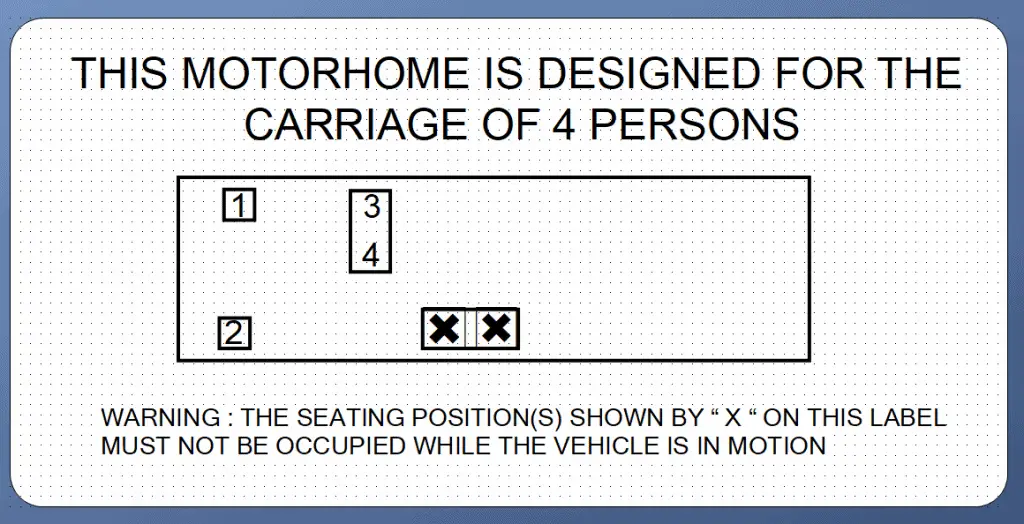 In addition, when adding a swivelling seat that has more than one locking position, you must accompany it with a label indicating that it should be used only in certain positions.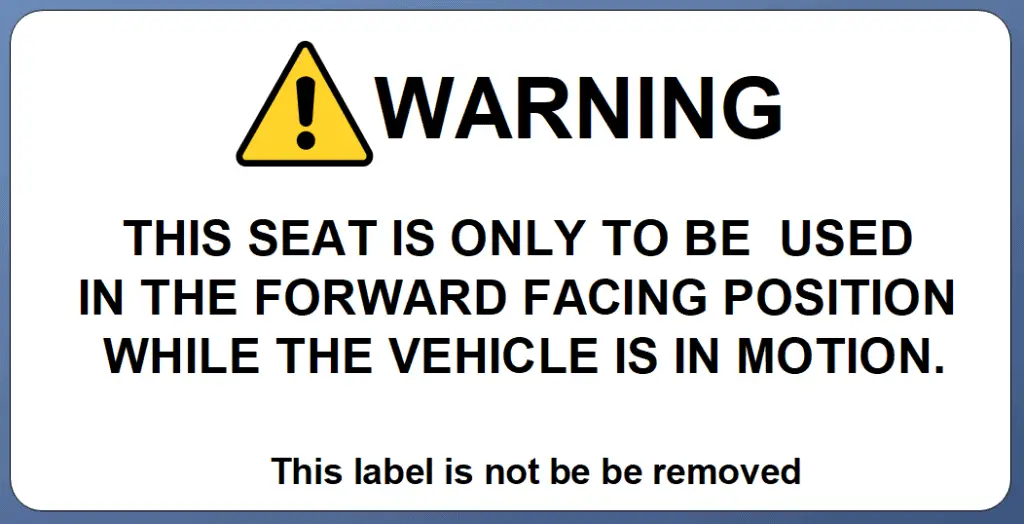 Clearance
It is a must that occupants are comfortable when seated, that is why there must be no obstructions within these shaded zones: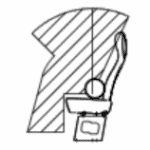 Some examples of obstructions are vehicle body parts, appliances and body parts of adjacent seats.
Specifically, the head and leg spaces must have these minimum measurements maintained during the entire drive even if the seat is adjustable:
| | | | |
| --- | --- | --- | --- |
| DIMENSION | ADULT SEATS | SEATS FOR CHILDREN UP TO 12 YEARS OLD ONLY | SEATS FOR CHILDREN UP TO 8 YEARS OLD ONLY |
| Radius A |  890 mm | 800 mm | 700 mm |
| Radius B |  560 mm | 490 mm | 400 mm |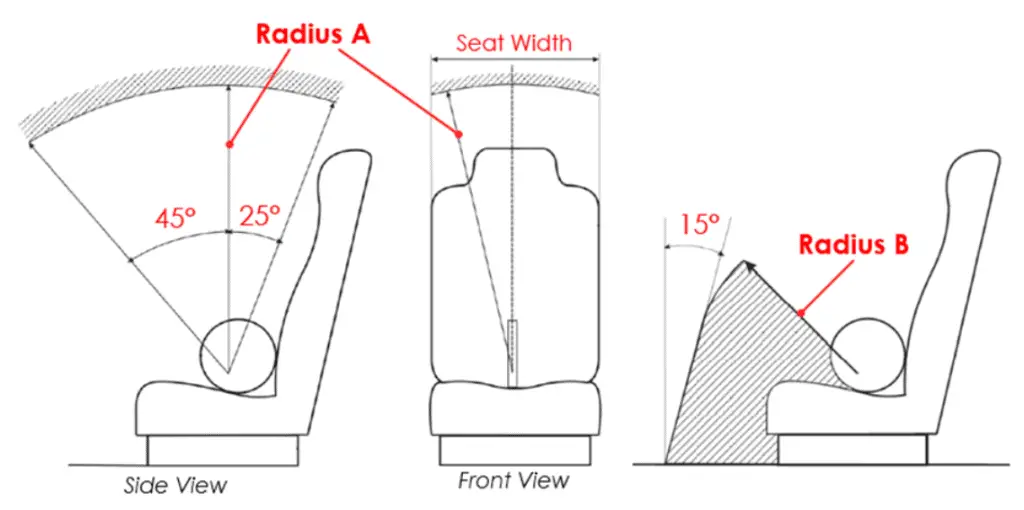 Seatbelts
Use only lap type belts.
Your additional seatbelt shall be compliant with AS 2596:2003.
You do not need to change the seatbelt when replacing an existing seat with a side-facing seat. However, that is only if the previous seatbelt is a lap type and is still compliant with all applicable ADRs.
| | |
| --- | --- |
|   Insider Tip: | The government discourages through VSB5 the use of child safety harnesses because they are difficult to use properly and they are likely to cause submarining. |
Submarining happens when a person's body slides below the lap belt as a result of vehicle collision.
Other Requirements
Strength must be the same as that required for forward-facing seats, but less the requirements for upper sash points
Seat frames must have NO protrusions or sharp edges.
Any other tips?
Tip #1: Installation kits
Seats that are marketed for users to "self-install" shall have an installation kit containing the following:
Installation Instructions, with
The make and model of vehicles to which the seat is compatible with.
Easy-to-understand English instructions
Supporting diagrams in SI Units
Installation Hardware (e.g. bolts, nuts, lock washers, spacers and backing plates) of enough quantity to enable proper seat installation
Tip #2: Too much additional seats
Be careful in adding too much seats! Doing so can change the vehicle category of your motorhome. Meaning, you're changing the identity of your RV. As a result, your current compliance may be invalidated and you may have to apply for a new one.
To check if you've added too much seats, multiply 68kg to your motorhome's seating capacity. If the resulting value is at least 50% of your motorhome's payload, then you're in trouble.
The seating capacity does not include seats that aren't meant to be seated on while the motorhome is in transit.
The payload is computed by subtracting your motorhome's Unladen Mass to its GVM.
Tip #3: Side-facing seats in caravans
No caravan seat is allowed to be occupied during transit. Therefore, safety would not be much of an issue, and you are free to install any side-facing seat in caravans.